Well, it's that time of year again. The Hawkeyes are coming to town and all longtime Illini fans must explain to the newbies why we take special pleasure in beating Iowa on the court and in any administrative misfortune that befalls their basketball program.
Can you believe it's been nearly 28 years since Bruce Pearl, resplendent in his self-righteousness, accused Jimmy Collins and the Illinois hoops program of offering Deon Thomas 80 grand and a Blazer to play for his home school? Wonder what we'll do to celebrate the 30th anniversary. Maybe let it go? Probably all depends on how well the program is doing.
This is actually related to yesterday's article about the Class of 1980. As discussed yesterday, the 1980-1981 season started a run of 10 NCAA appearances in 11 seasons for the Illini. That run ended after the 1990 tournament. Know why? Illinois was barred from participating in the 1991 tournament as a result of an NCAA investigation. The probe was prompted by Iowa assistant coach Bruce Pearl's accusations of major recruiting violations in the competition for the services of Chicago Simeon forward Deon Thomas. The investigation was unable to prove the primary charges but nonetheless punished Lou Henson's program for the dreaded catch-all "lack of institutional control" as well as three minor, self-reported violations. The sanctions included a ban from 1991 postseason play and restricted scholarships for the 91-92 and 92-93 recruiting classes. Daniel Libit at Deadspin wrote a very thorough summary and update of the whole sordid tale in the wake of Bruce Pearl's firing from Tennessee in 2011. It's a deep dive and well worth the read if you're so inclined.
To briefly recap:
A little over a week after the Flyin' Illini wrapped up their incredible season with a loss to Michigan in the Final Four, Bruce Pearl recorded a conversation with prized recruit Deon Thomas in which Thomas seemed to admit that he had been offered money and a car by Illinois assistant coach Jimmy Collins to sign with the Illini. In spite of his dogged pursuit, which included following Thomas on a team trip to the Netherlands and recruiting Renaldo Kyles, a kid in Thomas's circle, to pass him information on what Thomas was doing and who he was talking to, Thomas ultimately picked Illinois. Feeling it was his duty to preserve the sanctity of college basketball recruiting, Pearl turned the damning conversation, which was recorded without Thomas's permission (sleazy, but not illegal), over to the NCAA. Thomas and Collins denied the charges. The player claimed he was just saying whatever it took to get off the phone with Pearl. After a thorough investigation, the NCAA could find no proof of the alleged violations. See above for the penalties.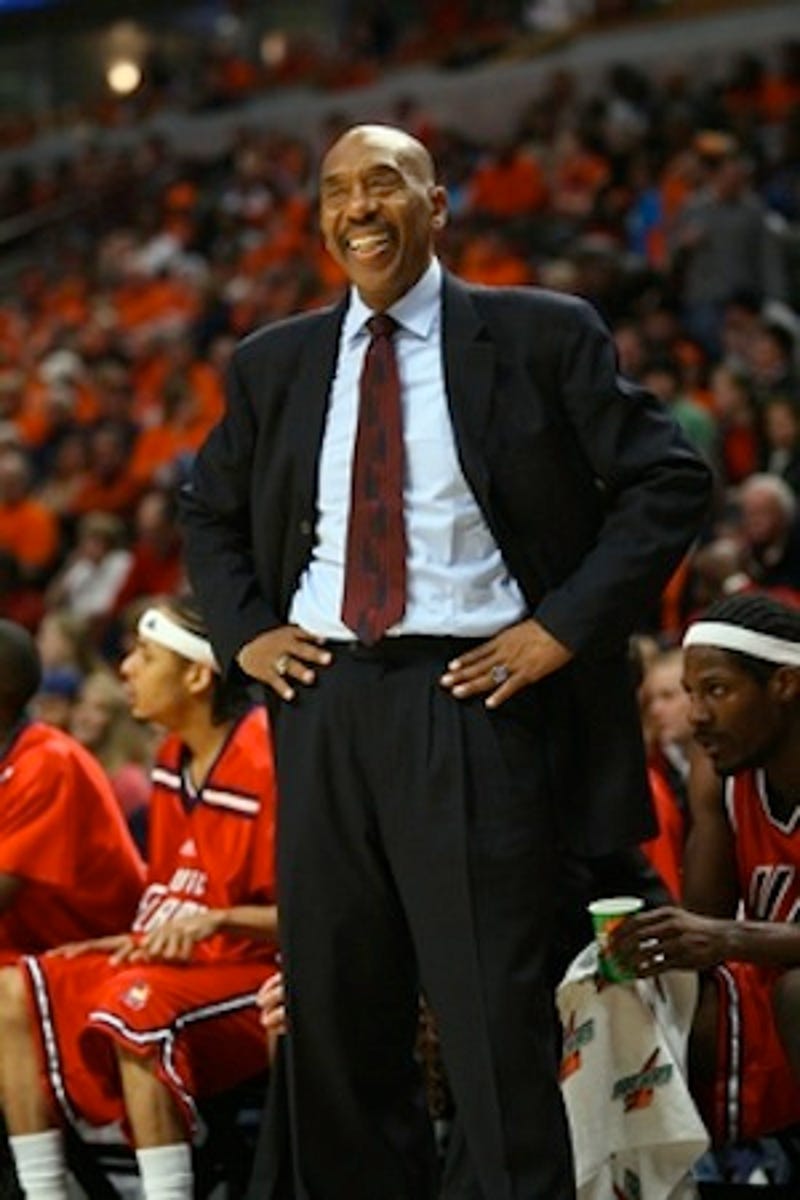 Bruce Pearl while coach at Tennessee; Jimmy Collins while coach at UIC
In the end, which has actually not come to pass just yet, Pearl's decision as a 28-year-old assistant to tape the conversation and then turn it in has affected the career trajectories of several men as well as the fortunes of multiple basketball programs. As Dick Vitale predicted in the wake of the scandal, Pearl made it real hard on himself to advance in the close-knit fraternity that is college basketball coaching. He landed his first head-coaching gig at Division II Southern Indiana in 1992 and remained there for nine years, winning a national championship and coach of the year honors. In 2001 he got hired at Milwaukee, and his success there led him to the top job at Tennessee. After a successful run with the Volunteers, Pearl was again embroiled in a recruiting controversy. He was fired after the 2011 season for improper contact with recruits and for lying to NCAA investigators. After three years away from the game, during which he was serving his "show cause" penalty from the NCAA, Pearl was hired at Auburn. His Tigers are currently 13-6 overall and 3-4 in the SEC.
Jimmy Collins continued as an assistant coach at Illinois under Lou Henson. When Lou retired in 1996, Collins was a local favorite to replace him. The school instead offered the job to then Florida head coach, Lon Kruger. It's unclear, at least to me, what role the Thomas scandal had in the U of I decision to go with Kruger. Kruger was a great coach, and parlayed success at Illinois into a stint in the NBA and further success at UNLV and Oklahoma. But I think it's likely that the whiff of the accusations clung to Collins and shaped his career. He was ultimately fairly successful as head coach at the University of Illinois Chicago, where he led the Flames to three NCAA tournament appearances in 14 years. He is now retired.
Deon Thomas finished his career at Illinois as the school's all-time leading scorer, a title he still holds. Although he was drafted 28th by the Dallas Mavericks, Thomas chose instead to play professionally overseas. After a successful career in Europe and Israel, Thomas returned to the US to become the head coach at Lewis and Clark Community College in Godfrey, Illinois. In 2014, he served as a special assistant coach at UIC, and this past year Thomas joined the Fighting Illini Sports Network radio crew. He replaced former Illini Jerry Hester as expert analyst, and you can hear him every game day alongside play-by-play man Brian Barnhart.
Memories are long in Big Ten Country. Every time there's an Illinois coaching search – or a potential coaching search – my dad jokes, "Hey, how about Bruce Pearl?" Yep, this actually came up the other day. But that's a post I'm not ready to write just yet…
In the end, the real question for me is, if Deon was offered a Blazer, was it the S-10 or the K5 model?
Personally, I would never impugn my honor for an S-10, but I would sign on any number of dotted lines for the K5.
The mid-80s model is my favorite – you can see it driven by Chief Hopper in "Stranger Things" – but in a pinch, an '89 would do just fine. Come to think of it, I did once sign up for a credit card in exchange for a King Size KitKat. Maybe it's a good thing I wasn't a high-major basketball recruit.
Photo of Deon Thomas: SportsLLL.com. https://www.sportslll.com/illinois-football-history-sports-lists
Photo of Bruce Pearl: via Stiletto Sports. http://www.stilettosetsports.com/wordless-wednesday-coaches-of-the-week/
Photo of Jimmy Collins: via Deadspin: http://deadspin.com/5784437/bruce-pearls-first-con-and-the-world-that-created-a-monster
Photo of S-10: http://lookatthecar.org/wp-content/uploads/parser/Chevrolet-Blazer-1989-2.jpg
Photo of K5 Blazer: http://jonesboro-ar.showmethead.com/trailers-mobile-homes/75001989-chevy-k5-blazer_19178760.html