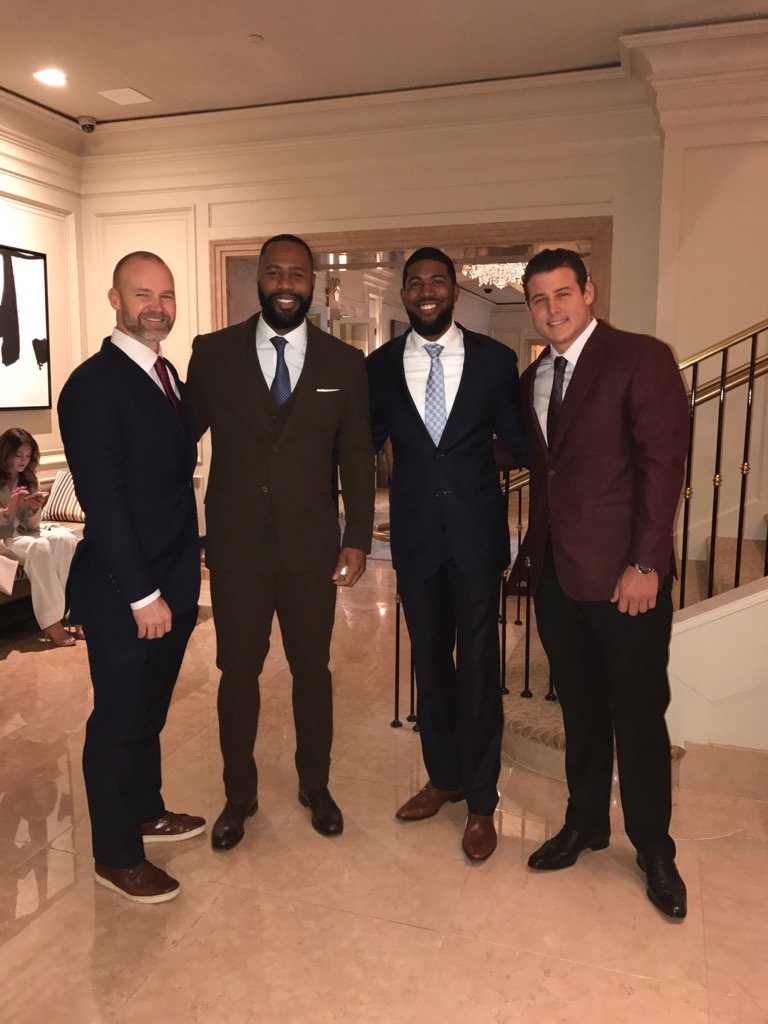 Today the World Champion Chicago Cubs are visiting President Obama in the White House. This is Obama's final time hosting a championship team. It seems somehow fitting that the first Cubs team to win the World Series since 1908 will be the last team hosted by a man who is our nation's first African-American president as well as a Chicagoan. So he roots for the White Sox. What can you do? Michelle is a Cubs fan.
In keeping with the Cubs theme today, I want to delve briefly into the new additions who will help the Cubs try to repeat as champs for the first time since…1908. That year just won't go away! Here are the new guys on the Cubs' roster as of today.
| | | | |
| --- | --- | --- | --- |
| Free Agent | Trade | Waivers | Activated from DL |
| RHP Koji Uehara (1yr) | LHP Caleb Smith (cash) | LHP David Rollins | RHP Aaron Brooks |
| LHP Brian Duensing (1yr) | LHP Wade Davis (Soler) | | |
| CF Jon Jay (1yr) | | | |
The big name here is Wade Davis. The Cubs traded young outfielder Jorge Soler to the Royals for Davis in December. Davis, 31, began his career as a starter with the Tampa Bay Rays from 2009-2011. He was about a .500 pitcher. In 2012 he pitched primarily out of the bullpen to the tune of a 2.43 ERA. After that season, he was part of a big trade that saw Davis and James Shields go to the Royals in exchange for, among others, Mike Montgomery (sound familiar?), Wil Myers, and Jake Odorizzi. Davis was a mediocre starter for the Royals in 2013 before converting to a lights-out reliever for the Royals' World Series runs in 2014 and 2015. When Kansas City won the 2015 championship, Wade Davis was on the mound. Davis only pitched in 45 games last season due to a right forearm strain, but he still recorded 27 saves and pitched to a 1.87 ERA. So, to sum it up, in return for Soler, the Cubs get one year of a pitcher who's had a sub-2.00 ERA in each of the last three seasons and is one of the best closers in the game. He is coming off of injury, but the Cubs medical staff, who checked out his records and met with Davis in person, were satisfied that he'd be good to go for 2017.
I like the move. Davis will cost $10 million for one year, but he's one of the best in the game and is only 31 years old. Pretty young for an effective reliever with 2 World Series under his belt. The Cubs needed a closer, and it was fairly clear that Aroldis Chapman was going to make a bazillion dollars (he signed with the Yankees for a record-breaking 5 years and $86 million). It was also clear that Chapman's comfort zone didn't mesh well with Joe Maddon's managerial style that relies on flexibility. Chapman prefers the traditional closer's role (well, newly traditional actually) of coming in at the beginning of the ninth inning. Maddon likes to use his best relievers at the climax of a game, which could occur with two men on in the 7th. It all worked out in the end when the Cubs won, but it was a bit of a bumpy ride.
Koji Uehara is another move that bolsters the bullpen. The back end of the Cubs bullpen that had been fairly reliable in 2015 – Hector Rondon and Pedro Strop – struggled to be effective after DL stints towards the end of 2016. Boston's closer from 2012-2014, Uehara gives the Cubs even more experience at the fairly modest price of 1 year at $6 million. He does come with risk: he's 42 and has seen his fastball velocity decline, but it's a risk the Cubs are able and willing to absorb.
I anticipate Deunsing, Smith, Brooks, and Rollins will compete for depth roles in the bullpen, and several of them may be stashed in Triple A in case of injury. Jon Jay, the lone position player addition, will probably platoon with rookie defensive wizard Albert Almora, Jr. Jay may be familiar to Cubs fans from his time in Saint Louis, where he played from 2010 to 2015. Jay, 31, signed a 1 year, $8 million contract. He has 58 games of post season experience with the Cardinals, and hit around .300 until wrist and forearm injuries limited his play in 2015 and 2016.
In summary, the Cubs didn't try to fix what wasn't broken this off season. They replaced Chapman with Davis, which could even out if Davis continues to pitch well and fits better with Maddon's style. Fowler is a big loss, but the hope is that Jay can bring some offense from the left side and at the same time allow Almora to learn and mature at the big league level. David Ross's loss in the clubhouse may be tough to overcome, but that's the way of things, right? The young guys need to take those lessons and develop leadership skills of their own. I'm not worried. This Cubs clubhouse is full of leaders like Rizzo, Heyward, Lester, and, rumor has it, Kyle Schwarber. And David Ross himself is still part of the organization. Winning a World Series is always tough, but it's going to be fun to watch them try to repeat!
Photo: David Ross via Twitter. https://twitter.com/D_Ross3